What's At Stake? Water Quality • Beaches • Marshes • Wildlife • Fisheries & Outdoor Recreation
Good Jobs & Economic Opportunity • Quality of Life • Coastal Character
Fair, Responsive & Effective Government • Lasting Beauty & Health of Georgia's Coast

---



Tell Congress that the U.S. must support clean energy and reduce greenhouse gases
by eliminating subsidies for fossil-fuels:

---
Keep web-searching for Center commentary on important coastal Georgia issues!
---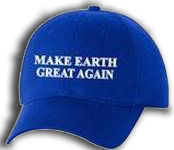 Get a "Make Earth Great Again" ball-cap when donating to the Center. This washed denim cap is a very popular item, with over 400 now in circulation. We suggest making your donation online using Facebook and sending us a note confirming it by email (susdev@gate.net) so we can mail you a MEGA ball-cap. OR send a check for $30 or more for Center membership to our office (address below). OR select the Donate tab below on the left side of this page and use your credit card.





Your support is essential to coastal protection by the Center. Please join other thoughtful individuals, families and businesses - make a tax deductible contribution!



Donate Now






Our Purpose

What the Center Stands For:



> Defending the public's quality of life

> Protecting natural beauty of Georgia's coast




Funding Sources
The Sapeol Foundation
Family foundations and charitable trusts
Individual donations that are tax deductible
Efficiently Managed Administrative Budget
Carefully controlled expenses ensure effective use of limited funds
Financially reviewed by a Certified Public Accountant (CPA) firm
The Center is an IRS-designated 501[C] 3 organization, so all donations are tax deductible










Sea Level Rise & Climate Change

Responsible, Accountable Government

Coal Ash Disposal

Energy and Climate Change

Water Protection

Coastal Management

Jekyll Island Redevelop. Issues

Coastal Development

Environmental Edu / Values

Barrier Island Protection

Reporting on Conditions, Trends & Issues






Call your legislator(s)

Attend meetings

Speak out

Volunteer

Recruit support

Write comments





July 5, 2021
Dock Permit Litigation
Press Release

Interviews on important coastal issues
See links to video interviews by Center staff and board members: GO TO Center's Facebook page: www.facebook.com/sustainablecoastGA

April 28, 2021
"Lunch & Learn" - 100% Clean Energy
On Our FaceBook Page.

March 18, 2021
"Keep Georgia Green" - Virtual Rally
On Our FaceBook Page.

December 10, 2020
Better Savannah, Interview of PSC candidate Daniel Blackman by Center president, Steve Willis
On Our FaceBook Page.




Resource Management

Coastal Issues

Governmental Associations

Climate Change / Sustainability

Environmental Education & Law







List of Center comments on coastal issues published in regional news media, 2018-2021
Published Commentary By Center for a Sustainable Coast On Issues Related to Cumberland Island National Seashore
Sustainability Indicators for Coastal Georgia
Staff Commentary on Coastal Issues Published in 2017
All responsible for the future - LTE / Savannah Now by David Kyler, Center for a Sustainable Coast - August 17, 2018
Renewable Energy an Urgent Necessity - Guest Column / Coastal Courier by David Kyler, Center for a Sustainable Coast - July 28, 2018
Coastal Properties at Big Risk - Letter / The Augusta Chronicle by David Kyler, Center for a Sustainable Coast - July 6, 2018
Hidden costs of dirty energy are high LTE Savannah Now, May 2018
Holding Big Oil accountable for deceptive tactics - OPINION / The Times-Union by David Kyler, Center for a Sustainable Coast - April 6, 2018
Climate Change - Public Opinion Survey April 2018
Protections Against Toxic Coal Ash April 2018
Vital Truths The Brunswick News April 2018
Speaking Truth to Power: Celebrating the first 20 years of the Center for a Sustainable Coast 1997-2017

Current Newsletter/Updates & Archive

Opinion Columns

Other Publications / Research



Center For A Sustainable Coast • 221 Mallery St. Suite B • St. Simons Island, GA 31522
Mobile: 912-689-4471 • Email: susdev@gate.net

^ Top